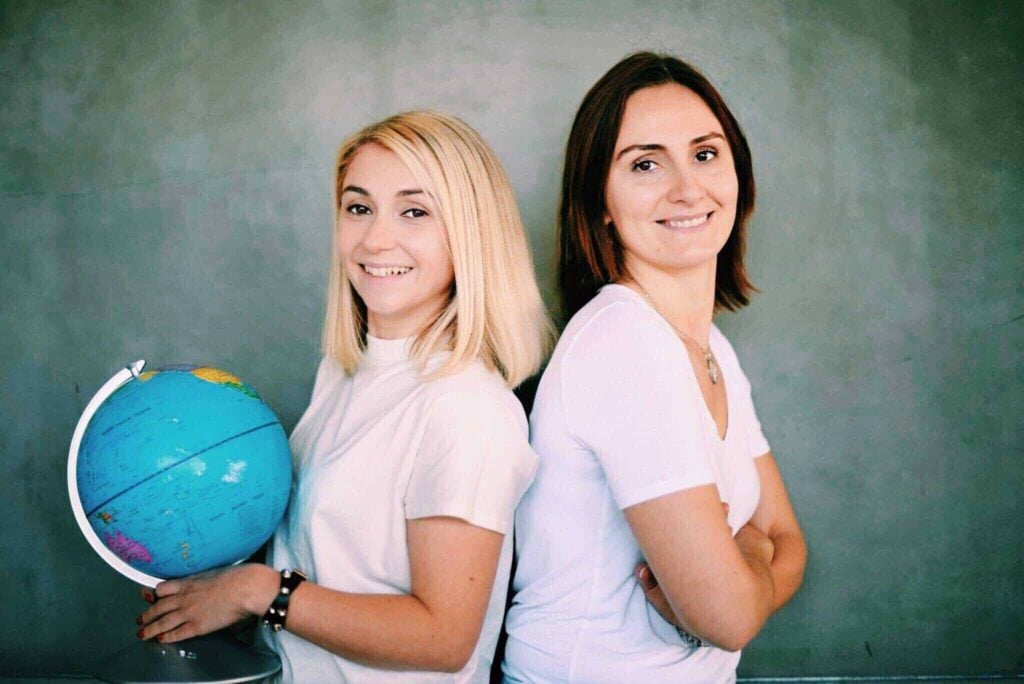 Hello friends!
We are Ksenia & Ksenia, from Bellevue and this is not a typo: not only do we share one name and one big love for kids, parties and making new friends, but we also excel at a variety of different skills!
Our first Ksenia has master's degree in History and Education and has been involved in numerous educational projects for kids, such as early learning, speech development and art classes. She has two children, the oldest one is highly enthusiastic about being a princess on kids' parties. She's also a great cook for her age.
The youngest is passionate about parties and is always excited to be mom's helper when planning new kids' events. She's also really proud to say that mom knows all about other countries. Both girls practice figure skating and love maths. They have a loving dad whom they love spending time with and who always supports Ksenia's business.
Ksenia number two has a master's degree in Economics and she used to work in an insurance company. She has also been conducting curious food experiments in the kitchen since her early childhood! Back in the years when she was a student, her first jobs were cake decorator at a supermarket and pastry chef at a golf club restaurant. Currently she hosts cooking workshops for adults, where she constantly awakens her curiosity by exploring new recipes and kitchen gadgets. Ksenia's passion for the culinary arts is so strong that you can easily catch her baking muffins for a weekday breakfast with her three children. The eldest child is keen on all kinds of sports such as swimming and mountain skiing; the younger ones are involved in a variety of classes on Eastside- art, cooking, ballet, figure skating and skiing. Their artistic side was naturally born when they were toddlers and joined mom in every class and camp she organized. For her, organizing her children's birthday parties was a paramount for today's business. Her caring husband and mentoring dad to the kids has always been by her side and they love to spend time together as a family.
Now, how did we come up with Popcorn- Play, Party & Cook?
We first met at our kids' math classes and back in April 2017 on a warm, sunny day, we met up in Seattle and decided to share our love for kids, making crafts, cooking and organizing kids' parties: that's how Popcorn- Play, Party & Cook was born!
At the beginning, we started off teaching "Mommy and Me" cooking classes in Bellevue, Seattle Eastside. After a while, we started hosting camps for school-aged kids and their younger siblings; we created a cooking school, where we do cooking from scratch, share recipes and promote healthy eating habits; and we started organizing custom designed birthday parties for kids aged 3 to 13. After so much hard work and passion, we had our own venue in the center of Bellevue by December 2019! Apart from us, our lovely team is also made up of wonderful site decorators and an awesome kid-friendly photographer.
If you're looking for club birthday parties in Bellevue for your kids, looking for new activities and fun ideas to keep your child entertained during school holidays, or have a child eager to learn how to cook and join a nutrition club, reach us – we'll be more than happy to welcome you in our studio in Bellevue!
The ladies who run this organization are so full of creativity, enthusiasm, and endless energy! They make every event a blast for kids and they are so completely organized, it's a joy for parents, too!
Suzanne S
Bellevue, WA
Thank you Ksenia and Ksenia for your professionalism, enthusiasm and endless creativity! With these ingredients in the list you get Never Fail recipe.
Irina
Redmond, WA