That's gross! – Science Camp for Kids 8 -11 y o
August 15
@
10:00 am
–
August 19
@
4:00 pm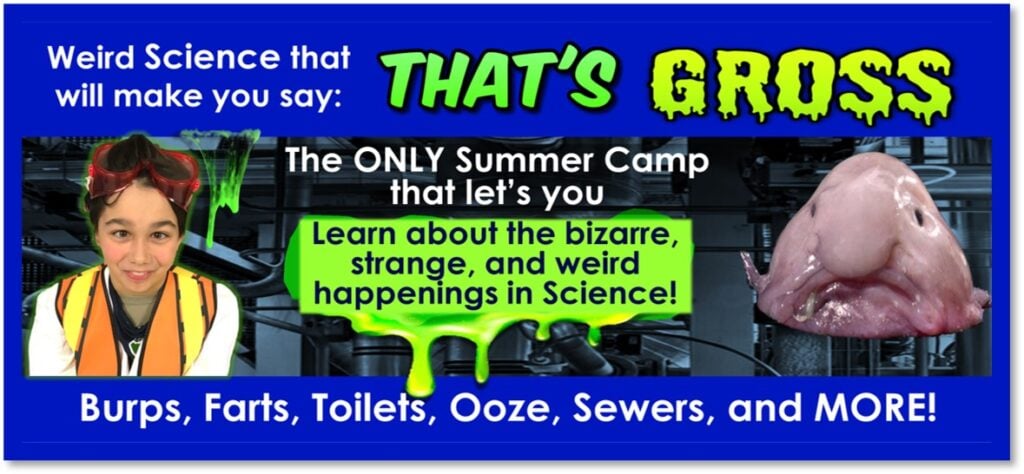 Does your child need more MOTIVATION in reading? This is the camp for you! We'll read and learn about the many gross and bizarre things that happen around us. Each day, we will read and explore new facts about strange animals, the history of the toilet, why we fart and burp, and other weird things. If you want to re-inspire your child to love Reading – join us! We will read about the history of the toilet and the sewer as we pretend to be there – the whole room will look and feel like the sewer! We'll research, play games, and make art projects to show all of the gross information we learned. We'll even end the week with making our own ooze! Warning: Gross things happen this week! And your child will love it!

Your child will learn new Science concepts from an experienced, award-winning teacher. Jeromie Heath has created and will lead this camp. He has 19 years experience in education and is National Board Certified (meaning, he's in the top 10% of teachers in the nation). Your children will love his zany and fun ways of teaching. This is an experience that you don't want to miss!
To see pictures and videos of this camp, visit: Heath Science Camps
Lunch will be provided, campers will go outside every day! Please, bring a hat, sunscreen and a water bottle.